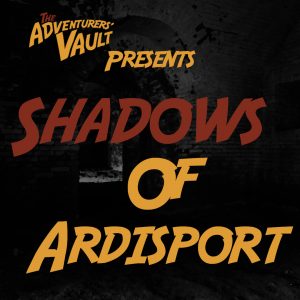 Shadows of Ardisport
A Pathfinder campaign set in The Mirrored Lands and first live offering for The Adventurers' Vault.
https://www.twitch.tv/theadventurersvault
https://www.youtube.com/channel/UCy9Cfz5njYAqwEZEVhJY2cQ
There is also an Audio only exclusive on the primary release channel, Only Murder Hobos In The Building, a mini campaign set in Ardisport. Interrupted by a short whimsical short adventure for The Exterminators.
The first episode can be found here: https://www.theadventurersvault.com/2023/03/21/episode-211-only-murder-hobos-in-the-building-prelude-march-21st-2023/
Ardisport is a city of trade and intrigue. By far the largest city of the realm whose fame is only rivaled by its infamy. A free city by name, holding sway over the city proper and large regions of nearby farmland. In reality a small nation unto itself whose power derives from its internal strength. Run by powerful guilds and fueled by a mighty labor force, Ardisport has a well earned reputation as the hardest working city of the realm. Yet the delicate balance of power creates many dangers. The splendor of Ardisport casts long shadows filled with danger and death. Many come seeking fortune but few find it. Are you brave enough and clever enough to make a name for yourself in the Shadows of Ardisport?
View the Trailer here: https://www.youtube.com/watch?v=z4UIm5hdVd4
The Adventurers' Vault and its content is Copyright of KnightOwl Workshop, LLC © [2019]. All rights reserved.
The Adventurers' Vault uses trademarks and/or copyrights owned by Paizo Inc., used under Paizo's Community Use Policy (https://paizo.com/community/communityuse). We are expressly prohibited from charging you to use or access this content. The Adventurers' Vault is not published, endorsed, or specifically approved by Paizo. For more information about Paizo Inc. and Paizo products, visit https://paizo.com/
Music and sounds provided by Syrinscape. (https://syrinscape.com/) Because Epic games need Epic sound!